Hi!
As the Gingerbread man says, "Run, Run as fast as you can…you can't catch me I"m the gingerbread man"! We have read 3 traditional versions of the Gingerbreadman story and the children are very good at comparing similarities and differences. We talk about what is the SAME  and what is DIFFERENT! The traditional stories all have ended with the fox eating the gingerbread man, the children have become good at predicting the ending.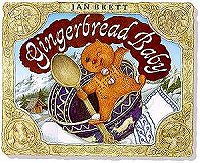 Today we read The Gingerbreadman baby, written by my favourite author, Jan Brett. This story was similar in some ways but the ending was much different! Ask your child how this story ended…I'll give you a hint..it ends with a gingerbread house!
Speaking of Gingerbread houses…
Take a look at our finished Gingerbread house, it looks amazing! The children are enjoying making play-dough cookies in the house, using cookie cutters, rolling pin and cookies sheets!
We have been lacing/sewing gingerbreadmen together, thanks to Peter's mom, Mara and for Forrest's mom  for helping the children with this! We will decorate them with buttons, sparkles and ribbons! I like doing this lacing activity because it further develops fine motor skills as well as hand-eye co-ordination. The children are doing well with this!
We have been using the classroom IPAD and have been making gingerbreadmen as well. The children love using the IPAD and are becoming more independent. They are so technological advanced, aren't they?
The children continue to enjoy the different centres including the colouring, blocks and carpet toys. They play so well together! We have wonderful children in our class!
Gingerbread House Making:
We are going to make our own gingerbread houses on Thursay morning. Thank-you to  everyone who has offered to volunteer to help! It is going to be so much fun. We will be using royal icing, peanut-free candies such as smarties, swedish berries, sprinkles, chocolate chips and candy canes. Your child may get sticky and bit messy but I can guarantee they will have so much fun!
Just a small thank-you to Sepideh, Syena's mom for donating Advent candy canes for our children. We have been giving them out to the children when they are the Kinderstar! Everyone will get their candy cane before the holidays even if their Kinderstar is not before the holidays! 🙂
That's all for now, thanks for reading!
Ms. Jo-Anne 🙂