Hi!
Today is day 20 in our chick hatching process…and GUESS WHAT??? We have 6 eggs with cracks on them. I noticed the cracks this morning while the children were working quietly (and of course we all got excited after my "enthusiastic reaction" ). All day we watched the eggs so carefully!  We were even cheeping and peeping in hopes of helping them hatch quicker. We  had many classes come and visit today! We noticed that the cracks are slowly getting bigger and even some of the eggs moving. As of now (5:20 pm), we have not had one chick hatch BUT the peeping and cheeping is getting louder! I think when we arrive to school tomorrow morning we should see some chicks in our incubator!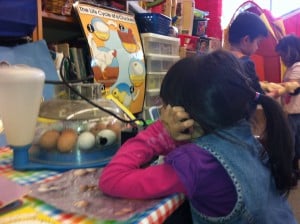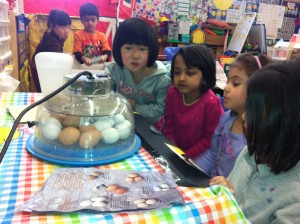 Until tomorrow!… I hope I can sleep tonight! I'll just stay a *little* longer!
Ms. Jo-Anne
PS… feel free to stop by the school tomorrow, sign in at the office and come and see the chicks!
---